Rio de Janeiro is one of the most famous and beautiful destinations where thousands of tourists land every year, to explore the urban culture, historical Santa Teresa, impressive cityscape and exotic beaches. Rio is a huge seaside city in Brazil, famous for its Copacabana and Ipanema beaches, 38m Christ the Redeemer statue atop Mount Corcovado and for Sugarloaf Mountain. This place is rated the best in many magazines and also featured in many Bollywood movies.
If you are traveling to Rio for the first time, you can't escape the fact of the spell of the amazing sites, charming neighborhoods like Santa Teresa, Lapa where you can get the real taste of the Brazilian culture. When tourists first reach in Rio de Janeiro, they head directly to the beaches for a more relaxed seasonal vacation and time. Lush Mountains, golden beaches, historical sites, all these are the complementary reasons why people around the world visit this city. If you are planning to visit Rio, we have some incredible places to enlist here where you can double your adventure-filled holidays.
Santa Teresa:
Santa Teresa is an excellent place to visit and stay, it's a hilltop district with charming views. The Santa Teresa is also a nice hotel which is situated in the Santa Teresa's high elevation that makes it the unique sunset spot in the evening. From European colonial-style buildings to the streetcars, it's more like a Portugal city. This neighborhood is famous for quirky cocktail bars or romantic restaurants with bay views and gives village vibes to international visitors.
Flamengo:
Closer to downtown Rio, Flamengo is located on Guanabara Bay which is also closer to Leblon. It is a primarily residential neighborhood that benefits from a scenic setting. If you are a good nomad and looking for an Airbnb apartment to use as your temporary travel space, then Rio neighborhood is a great choice to do so. The famous Oi Futuro Cultural Center is a wonderful venue for attending events and meetings.
Ipanema:
There's nothing wrong with the startling and iconic sites in Rio, but if you want to stick with golden sandy beaches, then Ipanema is the ideal choice ever. You can find luxury hotels, whitewashed buildings on the edge of the shores. Ipanema is very famous for a solid reason, a paradise for the dinners, shoppers, drinkers and to enjoy the luxury Garota de Ipanema eatery. The beach is itself a hotbed of a culture where you can join a game of volleyball, soccer or simply can lay down to have a cocktail or a Qurijo grilled cheese on a stick.
Leblon:
In the west of Ipanema, Leblon is located with its glorious similarities with the adjacent town. In addition, there are some slight differences in these towns but Leblon is a great deal for the upmarket. Ipanema is famous for its scattering of small shops, cafeterias while Leblon is well known for its commercial centers, shopping Leblon which is quite a large place to ship under the nose of the ocean breeze.
Urca:
You are visiting Rio and there are many chances that you are going to ride the cable car up to the Precipice of the Pao de Acucar which is famously known as the Sugar Loaf Mountain.
In the base of the mountain, Urca is neither as glitzy and glamourous as Ipanema not as photogenic as Santa Teresa but you can enjoy the laid back waterfront bars hotels and restaurants. Urca is such an amazing spot to enjoy the amazing sunrise if you wake up early luckily. Visit this amazing neighborhood for more incredible spots and hysterical bistros.
Lagoa:
Just to the North of Ipanema, Lagoa is happening to cover the massive Rodrigo de Freitas Lagoon, which is a relatively upmarket and most residential neighborhood. If you are tired running the laps around the lagoon, then you might need to get in sharp for romps on the beautiful beaches of Ipanema. It's a great place to discover and take a break at one of the countless bars, restaurants, and eateries, just headed to the shores of Lagoon. Lagoa also spots a spectacular vantage point for Rio's towering topography, with majestic mountains like Corcovado where the big statue stands, the Sugar Loaf and Pedra de Gavea, can be seen from the Lagoon level
Botafogo:
In the south of Flamengo, Botafogo is a very admirable spot for international tourists as it offers a very nearby path to the Sugar Loaf Mountain. You can make a stop at Indian Museum which offers some very fascinating both permanent and rotating exhibitions on Brazil's large and diverse indigenous communities. You can enjoy Casa de Rui Barbosa Museum, Basilica Imaculada Conceicao, Estadio de General Severiano (Stadium) and can also visit the Sao Joao Batista Cemetery which is cultural and interment memory.
Barra de Tijuca:
Until the Rio Olympics in 2016, not as many tourists choose Rio as their travel destination as they made the trek to Barra de Tijuca. This amazing place sits on the other side of the famous Pedra da Gavea mountain from the central districts and beaches of the majestic Rio. The famous Olympia village that existed here, this exciting and authentic village is still worth a visit. You can enjoy wider and longer beaches than Copacabana and Ipanema.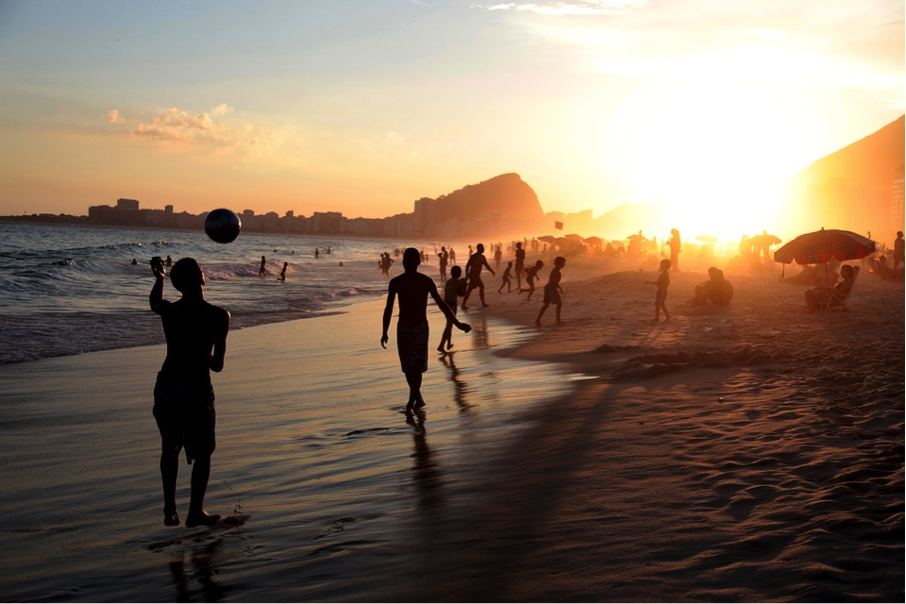 Here are Some Interesting things about Rio de Janeiro that would attract you to explore this amazing holiday destination:
The statue of Christ the Redeemer is one of the world's seven wonders.
Rio (2011), the animated movie was shot here. The most amazing and famous Rio backdrop enhances the tale of adventure, love, and self-discovery.
Rio de Janeiro means January River, but the river is actually a bay.
The world's bluest sky is in Rio de Janeiro.
World's biggest party in Rio's biggest carnival.
More than One hundred islands in Guanabara Bay exit.
Rio has the eighth biggest library in the world.
James is a co-author with one his friends at Travelistia. He loves to write adventure stories and explore adventure filled destinations.