Europe is home to some most beautiful beaches in the world. Thousands of adventure lovers take a break in their summer holidays and heed to the exotic beaches with their friends and family. Tourist explores wonderful beach destinations like Croatia, Morocco, Spain, the Atlantic coast in Portugal and many others.
Here at Travelistia, we have collected some of the most amazing and exotic lists of beaches which will lure you after reading this article and you would love to explore them in your next holidays 2023.
Zlatni Rat Beach, Croatia
Croatia is best known for its beautiful beaches and incredible places for tourists.  Zaltani Rat Beach is most popular among other beaches. This White beach is located in a very protected area on the amazing island Brac where you can find many international tourists enjoying Kite surfing and other water sports as well. It is accessible by car or foot easily. There are thousands of palm tree lines in the area where a beach lover can spend his sunny day under the tree shades.
For honeymoon trips, this destination can be a fortune. You can have an evening dinner with your partner on a beautiful beach with cool breeze streams.
Cala Macarella Beach, Spain:
Covered with some of the clearest waters in Spain, Cala Macarella beach is located on the Balearic Island of Menorca with some beautiful picturesque sights. To access this beautiful destination, you can take a short boat trip from the small town of Ciutadella.
Capture some beautiful moments with your loved ones and enjoy this amazing beach with some redressing outdoor juices and foods. Packed with tourists, this amazing spot is quite peaceful and calm. You can enjoy some adventure filed water-based sports like Swimming, Sunbathing, and Snorkeling.
Praia de Marinha, Portugal:
Situated among the limestone hills in the well-known area "Algrave region", Praia de Marinha beach famous among tourists and visit this spot whenever they visit Portugal for certain reasons.
This beach provides the best sights, water-based sports and exotic spots for spending a good weekend.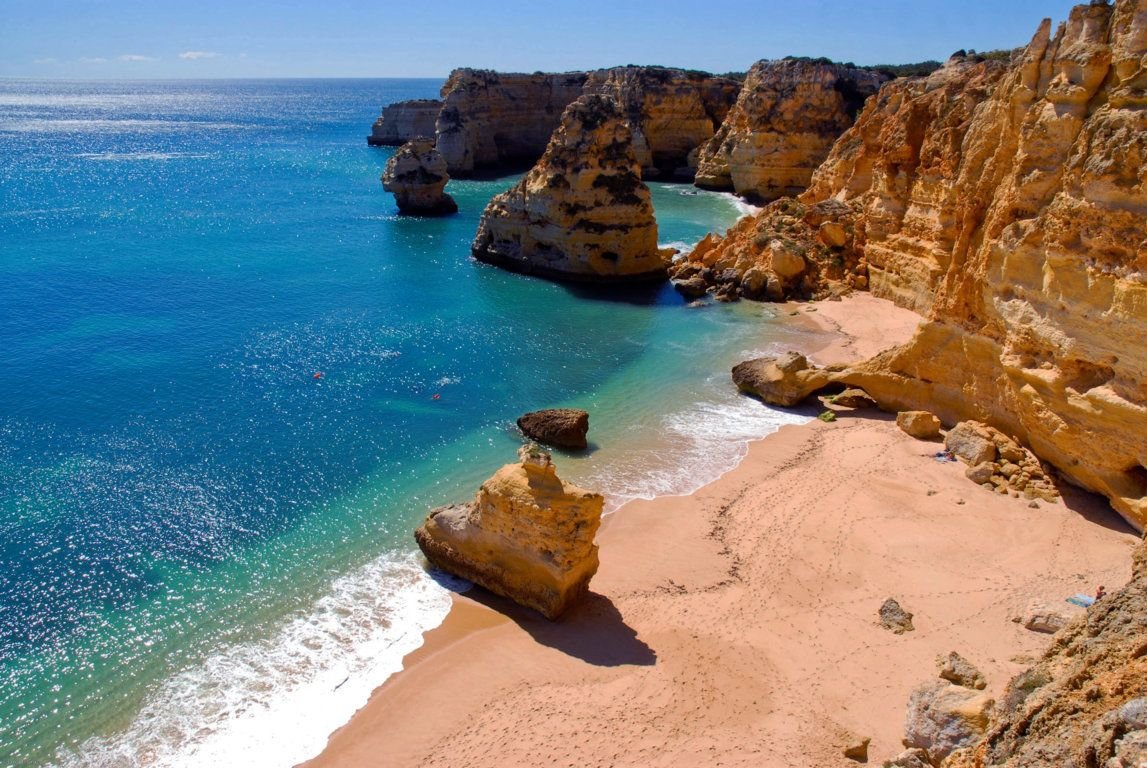 If you are about to plan your holidays for summer, don't forget to consider this amazing destination. Protected and peaceful, that all what you need after a stressful working year. If you want to visit this in mid-summer, you will encounter large crowds on the sand, many people come around the world to enjoy with their loved ones. You can access this beautiful beach after some mild climbing and make sure you get an extra pair of shoes in case.
Vik Beach, Iceland:
The most famous black sand beach in the world, known as the Vik Beach, located close to the small town of the Vik and surrounded by the green cliffs. The beach is considered best if you are looking for spending a whole day under the beautiful shade or you want to enjoy boating. This beach is perhaps not compatible with swimming.
To grab some iconic photos and memories, this is the ideal spot for you and your friends who want to enjoy and take memories back. Still, you can enjoy the landscape and wild water animals.
If you are preparing a list for considering the best destinations, this one could be impressive and must-see in your list because of the geographic formation and sharp sea stacks and clusters.
Ölüdeniz Beach, Turkey:
The most famous beach, best known as the Blue Lagoon, is the most beautiful wild bay among all spots in majestic Turkey. The bay and surrounding forest both are amazing and nature reserves and there is no editing to natural assets.
Officially known as the Oludeniz beach is what people seek if they visit Turkey. If you are wondering to enjoy some basic amenities at the beach, you will be happy to hear that there are many restrooms, showers, and several cafes that offer what you need at the time.
For watersports like scuba diving and snorkeling, this blue lagoon beach is the ideal spot so far. There is also a local market near the beach which can be used to buy fresh food and fish for the picnic if you are visiting Best Beaches to Visit in the Summer.
James is a co-author with one his friends at Travelistia. He loves to write adventure stories and explore adventure filled destinations.