Adventure travel is a type of tourism that involves travel or exploration with a certain level of risk that is either real or perceived. At best adventure destinations, Adventure travel may require physical exertion and special skills. It could be any tourist activity including cultural exchange, physical activity, and connection with nature. There are also many health benefits of adventure travel. Adventure travel takes you out of your comfort bubble and challenges you to test your mettle.
Here is a list of top 6 outdoor best adventure destinations you should visit once in a lifetime.
1. Enjoy Exotic Summer at Sanibel Island:
Sanibel Island is the most serene and quieter island in Florida. It is a famous tourist destination well-known for shell beaches and wildlife refuges. It is also known for its sunsets, sunrises, gulf warm water, and calm surfing. Tourists enjoy themselves with the tempting seafood dining at the island. Sanibel Island is renowned worldwide for its wide collection of seashells including scallops, whelks, and sand dollars, etc. Sanibel Island is also home to a variety of birds including bald eagles and roseate spoonbills. You can tour around the island by taking an island-hopping boat. Free travel guides share the island's rich history while roaming around the island.
2. Discover Amazing Places Custer State Park:
Custer State Park is a wildlife Reserve Park in the United States. This park is the largest and first state park in the US. The park is known for its scenic drives, scenery, and the views of the bison herd and prairie god towns. The park is home to many wild animals including mountain goats, white-tailed deer, mule deer, bighorn sheep, and coyotes, etc. the park also houses a museum that exhibits focus on the park's cultural heritage and natural history. Many outdoor adventurous activities are enjoyed by the tourists that include hiking, horseback riding, swimming, kayaking, camping, fishing, and much more. It is the best family adventure destination.
3. Great Smokey Mountains National Park:
Great Smokey Mountain National Park is an American National Park in the US. The park is known for its beauty of ancient mountains, the quality of its remnants of Southern mountain culture, and the diversity of animals and plant's life. There are more than 90 historical structures that have been rehabilitated and preserved. It contains the highest mountains including Mount Le Conte, Mount Guyot, and Clingmans Dome. It offers many adventurous activities for its visitors such as hiking, fly fishing, water tubing, bicycling, and horseback riding. Most part of the park is covered in a dense forest. The Great Smokey Mountains National Park anchors large tourism and is the most visited National Park in the US.
4. Visit Bar W Guest Ranch in your summer holidays: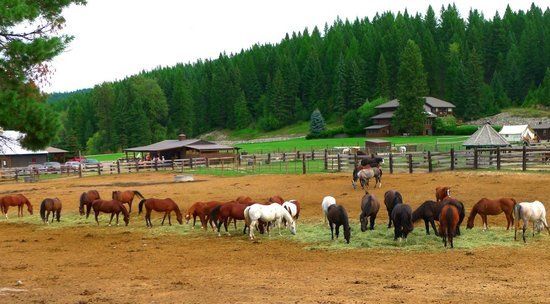 Bar W is a small ranch where you can saddle up for Montana ranch experience where kids are free to play and explore and parents can relax. The guest ranch provides western-themed vacation with archery, roping, fly fishing, square dancing, skeet shooting, barrel racing, pole bending, cookouts, and campfires. Enjoy the trip by taking your family for a cruise around the lake on a canoe or a rowboat. Lodging accommodations for the guests include glamping tents or cabin. Follow expert wranglers for wagon ride dinners, trail riding, or archery. Sit back, relax, and enjoy the amazing wildlife and simple serenity. This place is best for a family adventure vacation.
5. Explore Grand Canyon National Park In Your Family Vacations:
Grand Canyon National Park is situated in Arizona. The park houses the Grand Canyon, which is considered as one of the wonders of the world. Grand Canyon is the finest example of arid-land erosion in the world. The park is also comprised of several major ecosystems. The park consists of a wide array of geological features and layered bands of red rocks, and several caves containing significant biological and geological resources. The primary visitor service area in the park is Grand Canyon Village which houses lodges, churches, hospitals, restaurants, and fuel stations. The park also provides adventurous activities to tourists including hiking, mule rides, driving tours, and walking tours. Families visit the park for having adventure tourism. This park is also ranked as the World Heritage Site.
6. One of the Best Adventure Destinations is Nantucket Island:
Nantucket is a famous tourist destination and summer colony. Nantucket Island is known for whaling, foggy weathers, lighthouses, Cisco Brewers, fishing, Main Street, and the Daffodil Festival. Different summer activities are also hosted by the Island such as kite-making, jump roping, and open-air movies. The island also organizes a number of festivals including a comedy festival, a cranberry festival, wine and food festival, and a book festival. Nantucket Island travel guides can help you with accommodations and dining can to get around the Island.
James is a co-author with one his friends at Travelistia. He loves to write adventure stories and explore adventure filled destinations.